Explore Avila Beach like a Local
We love our sleepy little beach town and we know you will too
Located halfway between Los Angeles and San Francisco, Avila Beach is the quintessential sleepy California beach town. Within moments of the Inn at Avila Beach, you'll have your pick of attractions and things to do, from beautiful beaches and a waterfront shopping, dining and entertainment district to art galleries, wine tasting rooms, hiking trails and much, much more. We can't wait to show it off!
The Beaches
Avila's Beach
The main beach, right outside our front door and the one our rooftop overlooks, is Avila's Beach. Surrounded by the pier on both sides, this beach is the most popular for sunbathers, football players and people watchers. Lather up on sunscreen because it's also the warmest beach.

Hartford Beach
Travel a little further down San Luis Bay Drive and you'll run into Hartford Beach. Dog beach by day and bonfire beach by night, this is every locals favorite beach. So much so, it's often referred to as the Dog Beach. At this little beachy paradise, four-legged friends are welcome at all hours of the day. Overlooking the Port of San Luis Obispo, no other place has views of waggin' tails and parked sail boats.

Pirate's Cove
Leave the kids at home for this one. The most controversial beach, but perhaps the most adventurous, is Pirate's Cove. This clothing-optional beach is private, secluded and tucked away from the main road. A bit of caution: in order to get to this exclusive beach, you must trek down a steep and windy path. Again, it's more for the bit adventurous.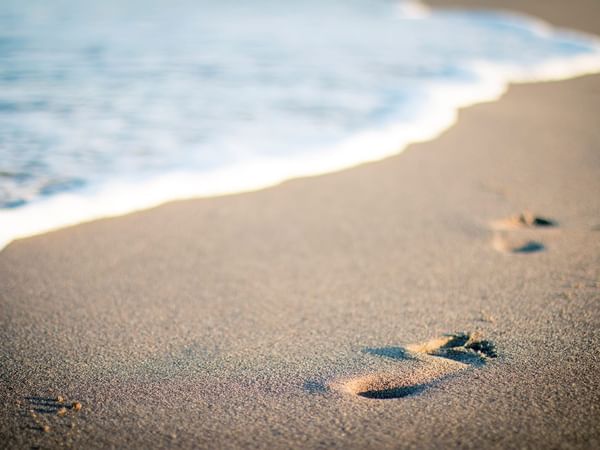 The Facts
History Class
Many say "I've never been to the new Avila Beach. I'm only used to the old Avila." But what exactly was the old Avila?
Avila Beach was established in the latter half of the 19th century when it served as the main shipping port for San Luis Obispo. Although Avila still has a working commercial fishing pier, it is not as expansive as it once was years ago. There are some historical structures still remaining; among the oldest is the Point San Luis Lighthouse, built in 1890 after a series of shipping accidents.
In the late 1990s, Unocal began deconstructing what is known as the "old Avila," which is just the four blocks of the commercial and beach area that you see today. Corroding pipes under the town were discovered years before and after a multi-million dollar settlement, Unocal agreed to rebuild Avila. The commercial parts of town were razed as a result of this oil leak. This construction led the way to the "new Avila."
Ahoy, Matey!
Before there was a road to travel between Los Angeles and San Francisco, Avila used to be a main shipping stop for steam ships when delivering goods to the Central Coast. The original Custom House was the entry point for all the shipped goods. These same piers are still in existence, although they have been rebuilt over the years due to natural wear and tear from the seawater and the weather.
A Movie Set?
Before the renovation of Avila was done, it was the primary shooting location for the 1979 film "California Dreaming," which starred Dennis Christopher, Glynnis O'Conner and Seymour Cassel.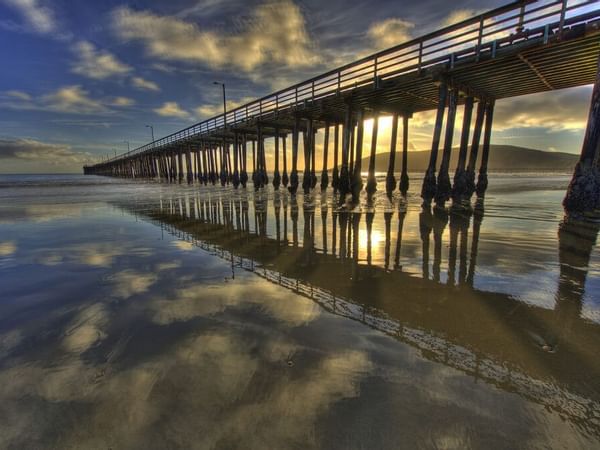 Can't Misses
With a name like "can't misses," it's gotta be perfect. We're still working to get this one just right. Stay tuned!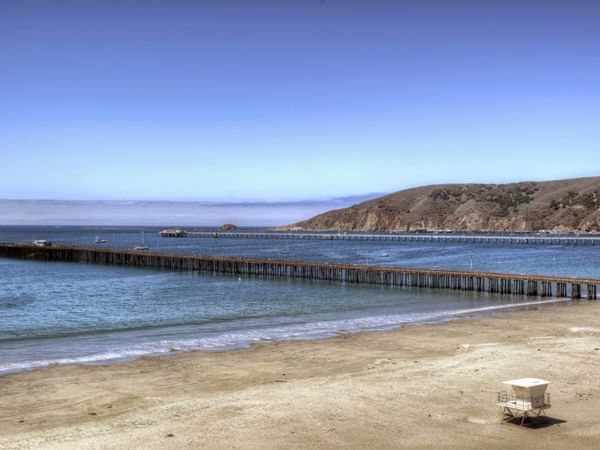 The Water
You're vacationing at the beach. You need some water adventure in your life.
We know you're going to have a whale of a time while staying with us, but what about checking out a real whale? Like a real, real one. Not like Sea World. One actually up close and loving their natural environment.
Well you need to speed dial Central Coast Charters to book your adventure. Captain Marc will navigate you through Avila's waters, tell you some of the most interesting Avila history (ask about the Jones Family that used to live on the large rock out by the jetty) and, not to mention, those whale sightings! Grab your camera with a hand strap because you're not going to want to miss this one.
Want the local experience? Lookin' to catch some dinner for grilling up on our sundeck? Reserve your spot with Patriot Sportfishing for a half- or a full-day out to sea.
If you don't feel like fishing yourself, you can enjoy some from the Olde Port Inn, located on the Hartford Pier.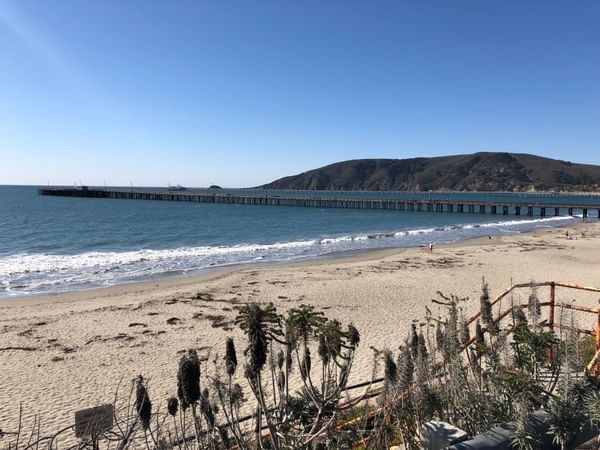 The Land
Sometimes you just want to keep your toes in the Avila sand.
Looking to step back in time? Reserve your spot on the Point San Luis Lighthouse Trolley Tour! Every Saturday and Wednesday, you can tour the historical lighthouse, which cannot be seen from the main town of Avila. Grab the camera; you'll be able to see views from Avila Beach all the way to Vandenberg.
Not a history buff? How about a leisurely stroll down the Bob Jones Trail? This 2.5-mile city to sea trail welcomes joggers, bikers, strollers and wondering walkers.
Didn't bring your bike in your suitcase? Luckily, we've got you covered. Head down to our lobby and grab a bike directly from us!
You came to the beach for the sun, sand and sanity (?), right? Sometimes not doing anything and just relaxing on the beach is exactly what the psychologist ordered. Thank heavens, Avila has three sandy beaches to choose from!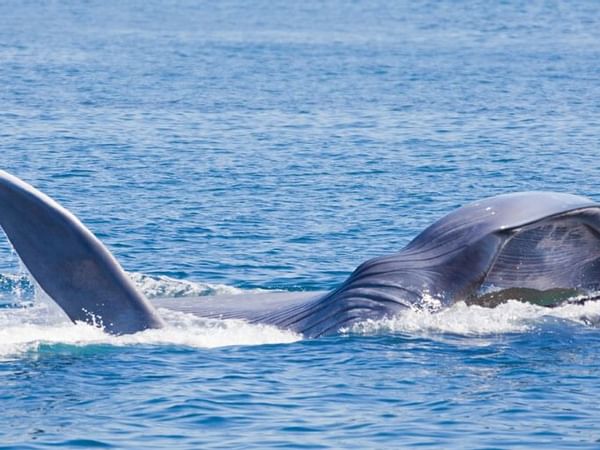 The Sea Life
Lions, Bears and Whales. Oh myyy!

Who needs to go all the way to the Monterey Bay Aquarium when you can uncover sea life on your own right here in Avila Beach.
Starting with the loudest creatures of them all… Avila's own harbor seals. These huge (and most of the time) lazy creatures can always be found under and on the Hartford Pier, often barking at each other or sleeping on top of one another.
Our favorite: the giants of the ocean– whales! In the migration and feeding months, whales are often spotting roaming Avila's shallow waters. Scientists don't know if these mammals are lost on their paths up and down the coast or if they're simply exploring the Avila Bay. Every year in July and August, a pod of Humpback whales visit Avila and play in Avila's harbor. (Don't believe us? YouTube some videos!) Then December through March, you can spot grey whales catching their krill right in front of the inn!
Dolphins are one of the many water inhabitants that can be spotted in front of our inn, too. These curious creatures often search for their tasty food right around the pier.
Bring your binoculars, grab a cold one and see what you can uncover.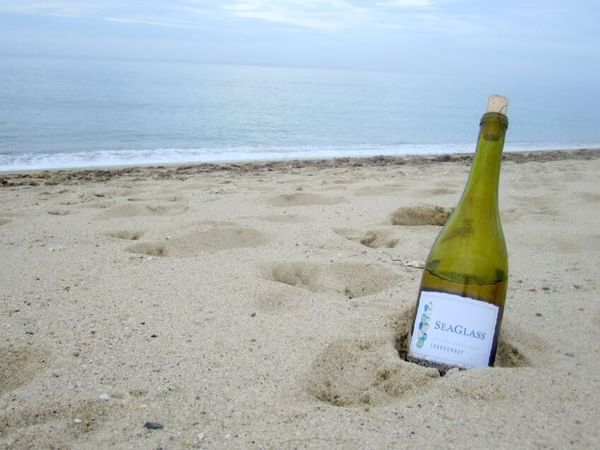 The Wine
Mmmmmm…grapes. Fermented grapes.
What's a vacation without them shmooshed in a glass?
One of the best features of the Central Coast is our access to the award-winning local wine. The coast produces some of the most unique wines in the world, thanks to the warm climate and salty ocean air.
When you stay at the Inn at Avila Beach, you don't need a car to experience these unique wines.
Avila hosts a handful of wine tasting rooms just steps from our front door. Here are some of our favorites:
• Kelsey See Canyon
• Alapay Cellars
• Avila Wine and Coasting Co
• Peloton Cellars
• Kelsey See Canyon
Grab a bottle to go and enjoy the sunset up on our rooftop sundeck for the ultimate wine-o experience.
#WineOsUnite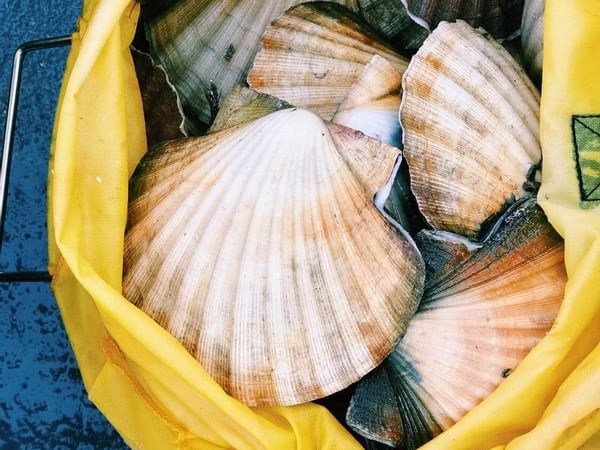 The Grub
You're a foodie. We're foodies. Moral of the story: we like food.

Let's Start with Breakfast
The most important meal of the day: coffee. And not just any ol' coffee. Joe Momma's Coffee. Just steps away from your room up on our sundeck, Joe Momma's Coffee is Avila's very own Central Perk. Famous for its classic six-ounce cappuccinos, this two-story joint boasts award-winning coffee and ocean views.
But don't leave without getting a warm cinnamon roll. You and your diet won't regret it. Attention, hipsters. Kravabowl is calling your name. Avila's own acai bowl joint doesn't disappoint either. We're loving its Power Bowl.

It's Lunchtime. No Clocking Out Needed
Burger. Salad. Fries. Fish Tacos. Clam Chowda. Need we order more? The Avila Market is the stop for all your grumbling tummy needs.

Mmmm…Dinner
We might be a bit biased because they are our next-door neighbor, but Ocean Grill is the spot to grub at. California Coastal cuisine is its focus, but we can't keep our eyes off that wine list! #WineOsUnite
But you can't go wrong with the classics and one of the original businesses of old Avila, namely the Old Custom House. This Avila staple serves up breakfast, lunch, dinner and a bit of happy hour. If the happy hour doesn't suit you, head next door to the bar Mr. Rick's. Happy hour + its beach front patio = winning.

Ready, set? Grub.